I recently discovered Dashing.io, which is an easy to use dashboard, which seems to fit my needs :
Easy to install
Useful widgets available, easy to add new ones
Generation of templates for dashboards, jobs, widgets
Great design (subjective), some friends find it too close to Windows 8, but I don't use it, so…
New data can be pushed via internal jobs or external API, by calling an URL
Tile based interface with drag&drop re-arranging (based on Gridster)
Auto-adaptation to smartphone/tablets (Responsive)
From my point of view, the major drawback is that it uses Ruby language. I have nothing about it, I just did not want to add another 'technology' to this project, which uses already lots of things. So I tried it, and then discovered Dashing-js: a Node.js port.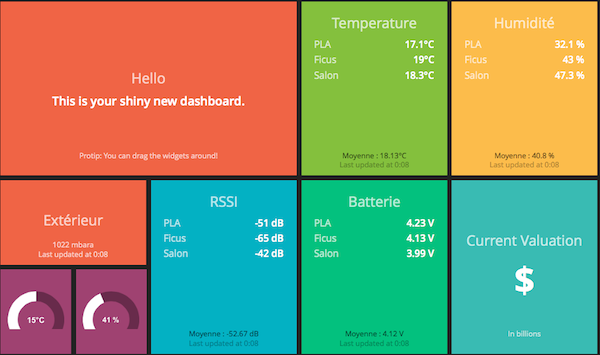 Dashing dashboard
The port is not as well documented as the Ruby version, so I will share my experience:
Run on a sub-directory (helpful for reverse proxy)
The easiest way to add it on /dashing is:
In file node_modules/dashing-js/lib/dashing.js
Add app.use('/dashing', app.router); (L75) inside app.configure(function() { } block
In file assets/javascripts/application.coffee
Add Batman.config.viewPrefix = 'dashing/views' after #= require_tree ../../widgets,
Stop a dashboard launch as daemon
If you start your dashboard in background with dashing-js start, dashing-js stop will not work, you must use kill PID command. I hope to have some time to explore the code and correct the bug/implement it soon.
Set default dashboard
Edit the file server.js, then line dashing.default_dashboard = 'subPathIfNeeded/sample';.
Save the current tile layout
Drag the tiles
Click on the 'Save this layout' button
Copy the code
Paste it in dashboard/yourDashboard.jade respecting the following example indentation, and the . (dot) after script(type="text/javascript"). Done !
extends layout

block title
  | Dashboard's title

block content
  div.gridster
    ul
      li(data-row='1', data-col='1', data-sizex='4', data-sizey='2')
        div(data-id='welcome', data-view='Text', data-title='Hello', data-text='This is your shiny new dashboard.', data-moreinfo='Protip: You can drag the widgets around!')
    center
      div(style='font-size: 12px') Try this: curl -d '{ "auth_token": "YOUR_AUTH_TOKEN", "text": "Hey, Look what I can do!" }' -H "Content-Type: application/json" http://#{request.header('host')}/widgets/we$


  script(type="text/javascript").
    $(function() { Dashing.gridsterLayout('[{"col":1,"row":1,"size_x":4,"size_y":2} [...] }]') })