As I did not found any help over the Internet on that subject but read that other people have this problem I publish here why the buttons of my cruise control were not working.
I started one year ago when suddenly all the buttons were swapped:
Minus was not working anymore
Plus was acting as minus
Pause was acting as plus
As I was able to use it I did not do anything, considered that it was behind the airbag. I thought that some ribbon cable has moved. But one week ago it really failed and was not working at all. So I decided to take a look over the Internet: some people had the same issue, and Citroen charged more than 400€ to change the electronic board. Then I spotted a video which helped me to safely remove the airbag and the electronic board:
This video is in Spanish, which I don't speak but images are obvious when you understand that pushing on the metal part (@ 8 sec and 30 sec) releases the airbag. When the electronic board is removed, take a look at the two resistors circled in red in the following picture. They were open circuit, so I changed them, cleaned the dial (in blue), resolder the switch (in pink) then put everything back in place, and… Success
Note: resistors are 1206, even if I soldered 0805 because I only had this size. Also, the dials were full of dirt so it might worth cleaning them with some alcohol.
I will also write this post in French, as many French people own a Citroen :)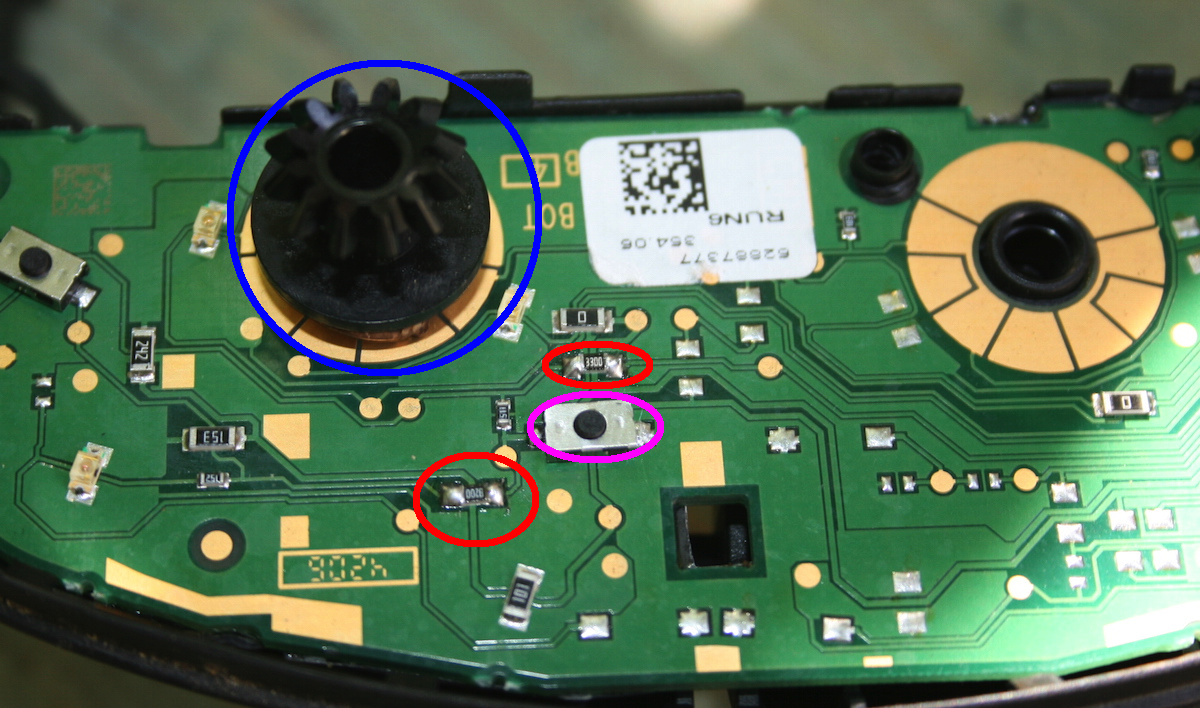 Faulty PCB
L'année dernière les boutons de mon régulateurs se sont décalés : Le moins ne fonctionnait plus il fallait appuyer sur plus; pareil pour le plus et pause.
Sur le coup je pouvais encore utiliser le régulateur donc je n'ai pas trop cherché, surtout que c'est caché derrière l'airbag.
Sauf que la semaine dernière c'est réellement tombé en panne: vu le décalage des boutons je pensais à une nappe, mais je ne savais pas trop comment tout démonter. Merci à la vidéo ci-dessous qui m'a aidé à faire ça en toute sécurité.
Cette vidéo est en Espagnol, que je ne parle pas, mais une fois que l'on a compris qu'appuyer sur la barre métallique (@ 8 sec et 30 sec ) décroche l'airbag tout va bien. Une fois la carte électronique démontée je me suis aperçu que ce n'est pas un soucis de nappe électrique mais de résistances, entourées en rouge sur la photo. Elles étaient en circuit ouvert donc je les ai changées, nettoyé les contacts de la molette (en bleu) et ressoudé le switch (en rose) au passage, puis, tout remis en place. Et ça fonctionne à nouveau !
Note : Les resistances sont en 1206 même si j'ai mis des 0805, je n'avais pas autre chose sous la main. Par ailleurs la molette était vraiment sale, donc si vous avez des soucis avec essayez aussi de passer un peu d'alcool isopropylique.