Quick and compact STM32L052 development board
I usually use Arduino as the default choice for all my projects thanks to all libraries available, in specifics cases, I switch to STM32 to get power computing power or peripherals the ATMega328 is not able to provide. More and more projects need ST's micro-controllers so it is time to switch to more modern µC: I recently designed a new all-around board based on STM32L0, but all STM32 with the same package should work.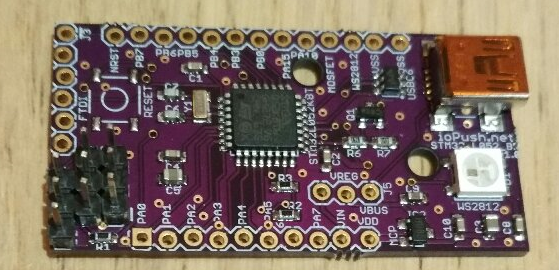 Board picture
Requirements
Breakout all I/Os
WS2812 RGB led: blinky things, you know!
3.3V LDO regulator
Easy way to select Vin or Vusb (jumper)
Easy way to select BOOT0 (jumper)
USB connector and ESD protection
200 to 300 mA mosfet to control more power or other voltages
Reset button
Breadboard friendly
"FDTI" pinout connector for serial communications, and to try ST serial bootloader
All components on one side, so the board can be easily reflowed with hotplate
Caveats & improvements
The batch of WS2812b I have works well @3.3V, but it might not be the case for all LEDs as the datasheet specifies Vin=[3.5;5V]. Also, old habits die hard, I tried to put too many things on a small board, so routing can be improved, and for the next revision I will change :
Smaller ST-Link header (1.27 vs pogo-pin ?)
FTDI connector can be dropped:
Thanks to ST-Link and cheap Nucleo the serial bootloader is not used for development, I think that it might be useful in production but during development having access to the debugger is really better.
Serial communications can be handled by the STM's USB, if included in selected µC. If not, just wire the serial pins.
As ST-Link is always used to program the board, BOOT0 can be tied to the ground or only be a solder bridge.
I will not switch from Vin to Vusb really often, so this jumper can be converted to a solder bridge too.
R6 and R7 can be taken away from each other, to ease hand soldering.
Mounting holes are not usable with screws, only push-fit pins.
Links